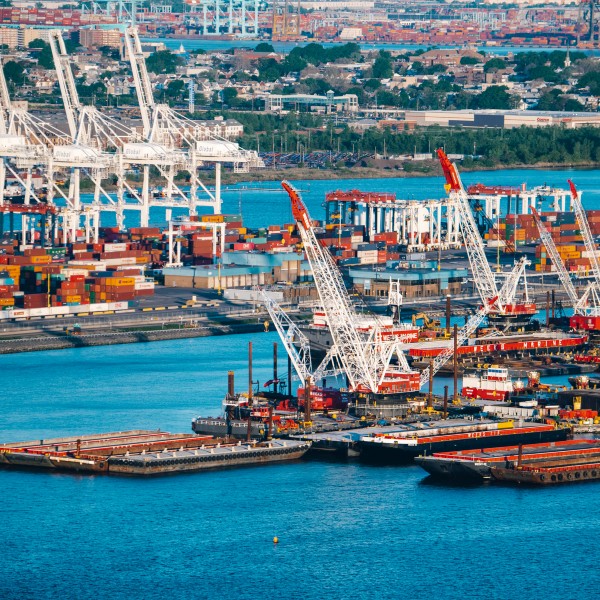 We're excited to share that we have been awarded a significant contract with the Port Authority of NY and NJ and Constellation Energy to design and construct a high-powered charging site at Port Newark. This groundbreaking project aims to support the transition of Class 8 drayage trucks to a more sustainable, electric future.
A Need for More Powerful Chargers
While most freight operators running electric trucks will have charging available at their regional warehouses, there is no publically available charging in Port Newark powerful enough to charge tractor-trailers quickly.
Our project will ensure that fleet operators can confidently send electric trucks in and out of Port Newark. If their drivers are delayed while entering or exiting the Port, they'll have a dedicated charging space. This will guarantee that they can power up and reach their regional freight terminals without any further delay.
Paving the Way for Class 8 Truck Charging
The project includes the design and construction of a high-powered charging facility within an existing truck rest stop area at the Port. This ambitious project has us joining hands with NJ PSE&G to introduce the new electrical service. We will roll out 4x 350kW DCFC within the site, powered by a new 3000A electrical service to allow for future expansion. In order to carry out the initiative, we've developed a deep understanding of the charging requirements and traffic flow of Class 8 trucks.
Given the flood risks associated with the Port area, we've had to elevate the entire site—an additional hurdle we're proudly navigating. We're also in sync with the Port Street Corridor Improvement Project to complement their goal of enhancing access roads throughout the Port area.
Construction is scheduled to commence later this year, targeting a completion date around June 2024, considering the current equipment supply chain challenges.
We're dedicated to ensuring that this project will not only fill a void in Port Newark's infrastructure but will also inspire similar projects around the country. Our vision is that by next year, electric trucks will have a seamless experience in and out of Port Newark. We'll be sure to keep you updated on the results.
At PISO, we're not just building charging stations; we're fueling the future. Stay plugged in by reading our blog!
Join the Revolution
If you're interested in buying and/or installing one in your area, reach out to us today for more information.
Contact Us