This year we attended NATSO Connect 2023, which was held at the Gaylord Texan Resort & Convention Center in Dallas, Texas from March 7 to 10. The event was well-attended by decision-makers within the industry, making it an ideal opportunity for us to network and learn about the latest trends and developments in the EV charging space. Keep reading for our recap of the event!
NATSO Connect Highlights
One key takeaway from the event was that NEVI funding will be a driving factor that will propel the industry toward embracing EV chargers. This funding will help accelerate the deployment of EV chargers, making it easier for fueling station operators to offer EV charging services to their customers.
Another important insight was that DCFC is the main interest for truck stops and travel centers, rather than level 2 charging. This is because DCFC offers faster charging speeds, which are important for commercial vehicles that need to get back on the road quickly.
During the event, our team attended several breakout sessions and talks. These included discussions on dealing with ownership of charging stations, what type of mix of stations makes the most sense, what additional services EV drivers will need, and what the EV charging landscape will look like in five years.
PISO also made new relationships with potential partners that cover all aspects of the EV industry. This included meeting with both national and regional operators, leading to continued discussions with some. PISO also met other EV- and construction industry players and discussed possible partnerships.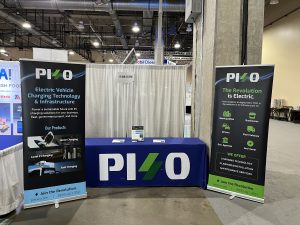 The Future of EV Charging at Fueling Stations
Fueling station operators are interested in becoming prime locations for EV drivers to refuel their electric vehicles and have the amenities in place to serve them. However, there were also discussions on the economics of operating chargers, as operators want to ensure economic success over the long term. PISO will continue to work with its partners to find solutions that make sense for both operators and EV drivers.
Chris Carmody, VP of Business Development, and Douglas Greenwald, Commercial Leader, Mid Atlantic attended NATSO Connect 2023 on behalf of PISO. The event was a great success and provided valuable insights into the EV charging industry. We're looking forward to attending future events and continuing to build relationships with industry partners!
Join the Revolution
If you're interested in buying and/or installing one in your area, reach out to us today for more information.
Contact Us