PISO Powers the Burlington Airport With Level 2 Chargers
PISO, in collaboration with JuiceBar and McFarland Johnson, installed state-of-the-art Level 2 charging stations at Burlington Airport, echoing the airport's commitment to sustainability and green initiatives. By augmenting the electric vehicle (EV) infrastructure, the project not only catered to the growing demand for EV charging but also bolstered the airport's position as a key player in promoting sustainable, accessible travel. This strategic partnership aimed to provide reliable charging solutions to travelers, enhancing customer convenience and reinforcing Burlington Airport's eco-friendly credentials.
Key highlights:
A strategic partnership between PISO, JuiceBar, and McFarland Johnson.
Serving Avis Rent a Car's nationwide initiative to install Level 2 chargers at various airports.
Installation of 8 total 48A plugs at the Burlington Airport.
Rapid project completion, with the site fully operational and commissioned in less than a month.
Breaking Ground
The primary objective of the project was to install Level 2 chargers at Burlington Airport, the first location in Avis Rent a Car's nationwide expansion plan. They plan to cater to the increasing demand for electric vehicle (EV) charging stations at airports and support the green initiatives of Avis Rent a Car. With a stringent deadline set by the Airport, PISO's challenge was not only to deliver high-quality EV charging solutions but also to do so within a remarkably short time frame.
Site Work
Work on the project began immediately, given the pressing requirement. PISO, JuiceBar, and McFarland Johnson came together to devise and execute a plan to meet the demanding timeline without compromising on the quality of work.
Eight 48A plugs were installed at the airport for Avis Rent a Car. PISO was responsible for coordinating with all stakeholders, supervising the installation process, ensuring compliance with all safety and operational standards, and conducting final testing before the chargers went live.
Post Install
After the successful installation, a rigorous process of testing and commissioning took place to ensure that the installed units functioned optimally. The post-install phase also involved necessary documentation and reporting to the stakeholders. Despite the speedy delivery, PISO ensured a thorough job, achieving full operational status and commissioning of the site in less than one month from the time of quoting.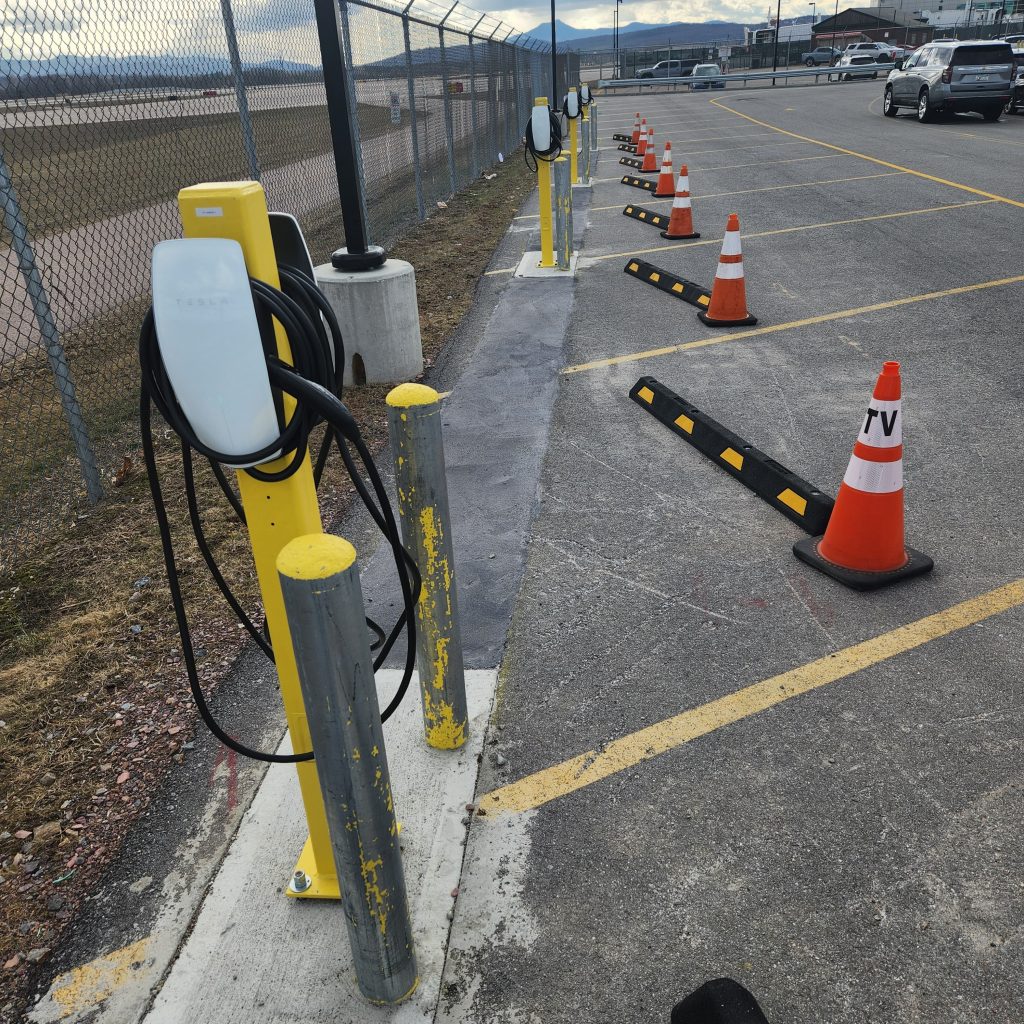 Finished Product
The successful execution of this project has resulted in a fully operational EV charging station at the Burlington Airport, equipped with eight 48A Level 2 charging plugs. This charging station not only supports Avis Rent a Car's operations but also bolsters the airport's capacity to cater to the needs of EV users.
The rapid completion of this project is a testament to PISO's commitment to delivering high-quality EV charging solutions under demanding conditions. The successful partnership with JuiceBar and McFarland Johnson has laid the groundwork for potential future collaborations. Overall, this project has showcased PISO's expertise in efficient project management, technical proficiency, and commitment to supporting the expansion of EV infrastructure.