PISO Advances EV Infrastructure in Nassau County
In a progressive stride toward fostering a sustainable community, PISO recently completed a project that revolutionizes the electric vehicle (EV) infrastructure in Nassau County, a suburban county on Long Island, New York.
Key Highlights
Successfully installed six Level 2 ChargePoint chargers in Nassau County.
Utilized innovative techniques like horizontal drilling for minimal disruption.
Worked seamlessly with Nassau County and Power One Electrical for implementation.
Contributed to Nassau County's green mobility landscape and vision for a more sustainable future.
Project Inception
After an extensive process, PISO emerged victorious in a bid to amplify the EV infrastructure in Nassau County. The project was not just about introducing charging stations but also about advancing the county's vision for a greener future. Thanks to the special funding from the Department of Environmental Conservation (DEC) for zero-emission vehicles (ZEV), the project could successfully move from ideation to execution.
Site Work
Considering the strategic locations and potential heavy footfall areas, PISO identified five key county sites for charger installations. These were:
Public Safety Center
While the first four sites each received a dual port charger, Eisenhower Golf Course was fitted with two, acknowledging its vast expanse and potential demand.
One of the significant challenges that PISO tackled with efficiency was ensuring the smooth operation of these sites during the installation process. The use of horizontal drilling, especially at Christopher Morley Park, kept the road open and minimally disrupted, setting an example of efficient and innovative project management.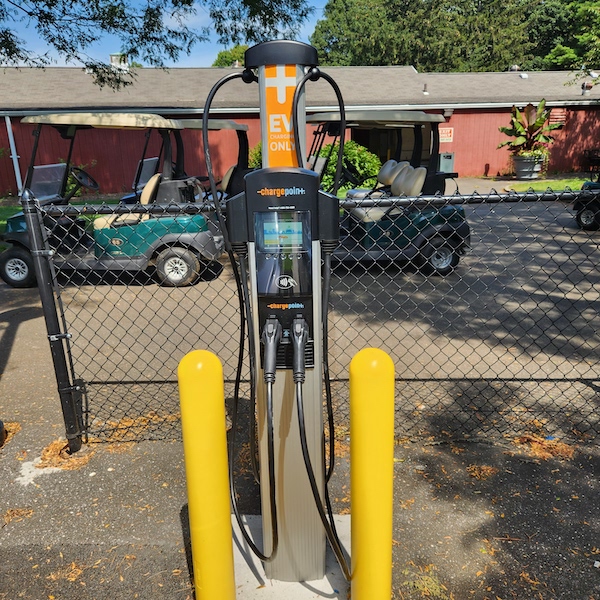 Finished Product
By the end of July 2023, PISO flawlessly installed all six Level 2 ChargePoint chargers, sticking to the ambitious timeline set at the project's commencement. These chargers, known for their speed and efficiency, are poised to significantly boost the EV ownership experience in Nassau County.
Collaborative efforts between PISO, Nassau County, and the electrical contractor, Power One Electrical, ensured the project's grand success. Their collective dedication to the project's vision played a pivotal role in its seamless completion.
Looking Ahead
This project, while significant in its achievements, is just a step toward a broader vision. PISO is enthusiastic about the potential long-term impacts this infrastructure will have on Nassau County's overall green mobility goals. As the county continues its journey toward a sustainable and environmentally-conscious future, PISO remains dedicated to making EV charging stations more accessible and promoting the shift to a low-carbon transportation model.
Are you considering making a positive shift toward EV infrastructure? Trust in PISO's expertise and commitment. Join hands with us in this green revolution–contact us today!