EVolveNY: Building A Statewide EV Infrastructure
For electric vehicles to be more widely available to consumers, increased access to charging stations is essential. We worked with the New York Power Authority (NYPA) on its EVolve NY initiative to provide just that. 
Key Highlights
Added 14 new sites across the state
Installed 76 DC charging ports
Tested stations with a KIA EV6 to ensure capabilities
Awarded 4 additional sites in Goldens Bridge, Olean, Albany, Quakenbush, and Potsdam
Breaking Ground
NYPA came to PISO looking to solve the lack of fast-charging EV stations available along the major corridors of New York State. The scope of the task included many facets such as locating sites, contracting with hosts, planning, permitting, and constructing the many sites. NYPA sought to work with a partner who could take on all aspects of the project aside from just providing the technology.
Site Work
New York has committed to making EVs easy to own and operate by investing $250 million through 2025 to build more charging stations throughout the state. The EVolve NY program is a key pillar of the state's plan to become a leader in electric vehicle infrastructure. In order to make the project happen, NYPA needed to work will a full-service EV technology like PISO, which is experienced in sourcing site locations and full construction management.
Post Install
The initial scope of the project was to build multiple sites of DC fast chargers with a capability of 100kW up to 350kW chargers. The sites would be located across New York—from Middletown in the lower Hudson Valley to Keene in the High Peaks and Salamanca in the western part of the state.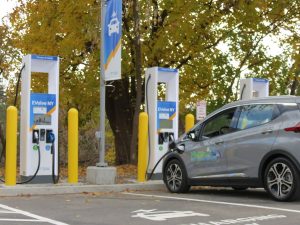 Finished Product
PISO successfully installed and managed all the awarded sites on time and within budget during the height of the pandemic. The EV infrastructure company successfully completed all tasks at hand and continued to monitor and repair the stations on an as-needed basis. 
PISO continues to work with NYPA on several different projects, including GSE at JFK Airport and busses in New York City.
Looking to make your EV infrastructure project come to life? Contact the experts at PISO to join the electric revolution.